At the end of my tour as assistant naval attaché in Buenos Aires, Argentina, I received orders as XO of the HJ Ellison. I was quite surprised, as my father had been skipper 1946-1948 (See Commander's page, H.V. Briner for Bio).
It was a wonderful two year tour, highlighted by an extremely successful six month deployment to the Indian Ocean, via Cape Hope.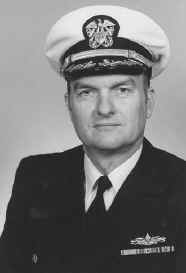 Captain Michael Durkin was the commanding officer and as solid an officer as you can get. He set a high standard of excellence for everyone aboard and his officers and crew responded. CO and XO still remain friends and live within a mile of each other in Virginia Beach, Virginia.
Captain Durkin has given his professional highlights on this Web Site. In addition, let me add some comments. This was a long, mostly independent MIDEAST deployment, so much advance planning was necessary to help maintain morale. We locked 600 cases of beer away in stowage. We had a ships combo of four talented sailors [prior to MIDEAST cruise, we serenaded the carriers when alongside for refueling - quite a sight - with the whole flight deck swinging to the music (jazz)]. The beer and combo helped us to make our own liberties in such rustic ports as Chisimaio, Somaliland as we took over the only outdoor local 'tavern'. Talk about 'white hat' good will! Fortunately, one member of the combo was electronic technician second class Hagerman who could convert 60 cycles down to 50 cycles for the electric guitars.
Most important of all, the good will, high state of readiness and top performance [ie; joint exercises with Indian Navy or hosting heads of state for lunch] of the Ellison earned her glowing WELL DONES from superiors.
On return to the states, Captain Durkin was relieved by my classmate, Ike Heyward, and he excelled - the remaining months of my tour.